Closing Bell: Nifty closes on record high, Sensex surges by 452 points lead by Tata Group stocks.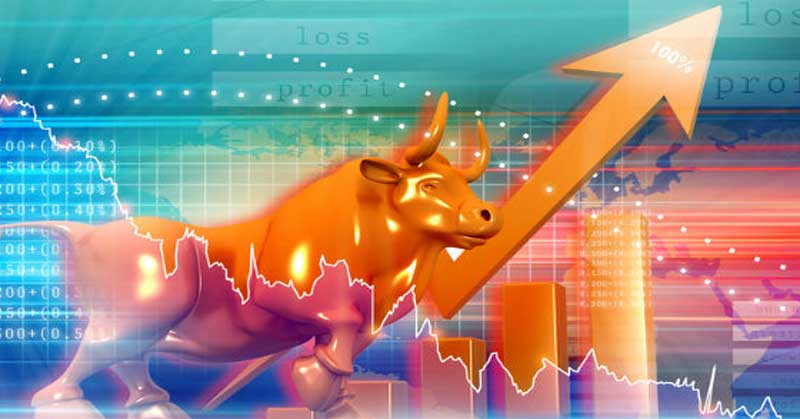 Indian market continues the bull run as Nifty ends at a closing high and Sensex up by 452 points. Tata Group shares rally.
Domestic Benchmark Indices Sensex and Nifty rose for the fifth consecutive trading session and closed at record high levels on Wednesday, October 13, 2021. Strong buying was seen in metal, IT and auto stocks, while some selling pressure was observed in realty stocks. In the broader markets, BSE midcap and smallcap indices jumped by 1.56% and 0.59%, respectively.
At the closing bell on Wednesday, the Sensex was up 452.74 points or 0.75% at 60,737.05, and the Nifty gained 169.80 points or 0.94% at 18,161.80. Around 1602 shares have advanced, while 1504 shares declined, and 118 shares remain unchanged.
Top gainers of the day were, Tata Motors, M&M, Tata Consumer Products, Power Grid Corp and ITC. Maruti Suzuki, ONGC, Coal India and SBI Life Insurance were among the losers.
On sectoral front, the auto index added 3.5%, while energy, infra, IT, metal, power and capital goods were up by 1%.
Tata Motors was up by almost 22% to a 52-week high of Rs 523.85 on the announcement that its electric vehicle entity will get funding from TPG Group to the tune of Rs 7,500 crore.
Tata Power shares powered ahead to a lifetime high of Rs 232.40 as the Tata Group's power utility is in a partnership with Tata Motors to develop electric vehicle (EV) charging infrastructure. Tata Chemicals clocked a fresh 52-week high of Rs 1144.50.
Among other Tata group stocks, Nelco, Tata Coffee, Rallis India, Tata Communications, Tata Consumer Products, Titan Company, Tata Metaliks, Tata Steel and India Hotels have all rallied 3-5% on the bourses today.
According to market experts, the mood of the global market is muted by inflation fears and high bond yields ahead of the release of US inflation data. But, the Indian market is robust due to the upcoming festival season.
Open Demat Account
Enter First Name & Last Name
Start investing in just
5 minsFree Demat account,
No conditions apply
0%* Brokerage
Flat ₹20 per order
Open FREE Demat Account in 5 minutes
Mobile Number
There is some issue, try later